A well written case report describes the condition and the complaints of the patient, an elaborate and well-documented treatment plan, the applied measurement instruments and parameters, and the results of the treatment.
The EFDMA regularly organizes an FDM Case Report Contest. There are prizes and the studies can be presented in the course of an event (conference, symposium,…).
The aim is to offer all FDM practitioners the possibility to describe their findings and treatment outcomes in the form of a single case report and thus present them to a broader public. On the one hand, these may serve as basis for future outcomes studies in the field of the FDM, on the other hand, they may promote a critical reflection on FDM approaches in comparison with traditional allopathic considerations and thus provide a valuable contribution to the implementation of the FDM in medical practice.
Even though case reports do not reach the evidence level of blinded clinical studies, they are a tool of scientific research and are worldwide accepted also by leading journals. However, the precondition for acceptance is that certain methodological and formal criteria are observed (see guidelines).
The EFDMA is trying to support ways of presenting the FDM in a scientific context that is feasible for every practitioner in their daily practice.
We are thus hoping this contest will raise your interest! The guidelines for creating a case report are available for members in the EFDMA members' area. Non-members can request these from the EFDMA office.
By calling for an FDM Case Report Contest, many other studies/works (created according to other criteria) also reach us. These also make an important contribution to the implementation of the FDM in medicine and, outside of the evaluation for the Case report contest, are also presented to the public and awarded prizes at EFDMA events.
We would like to thank all previous participants for their great work:
FDM Case Report Contest 2020
(Award at the TB-Event 2021)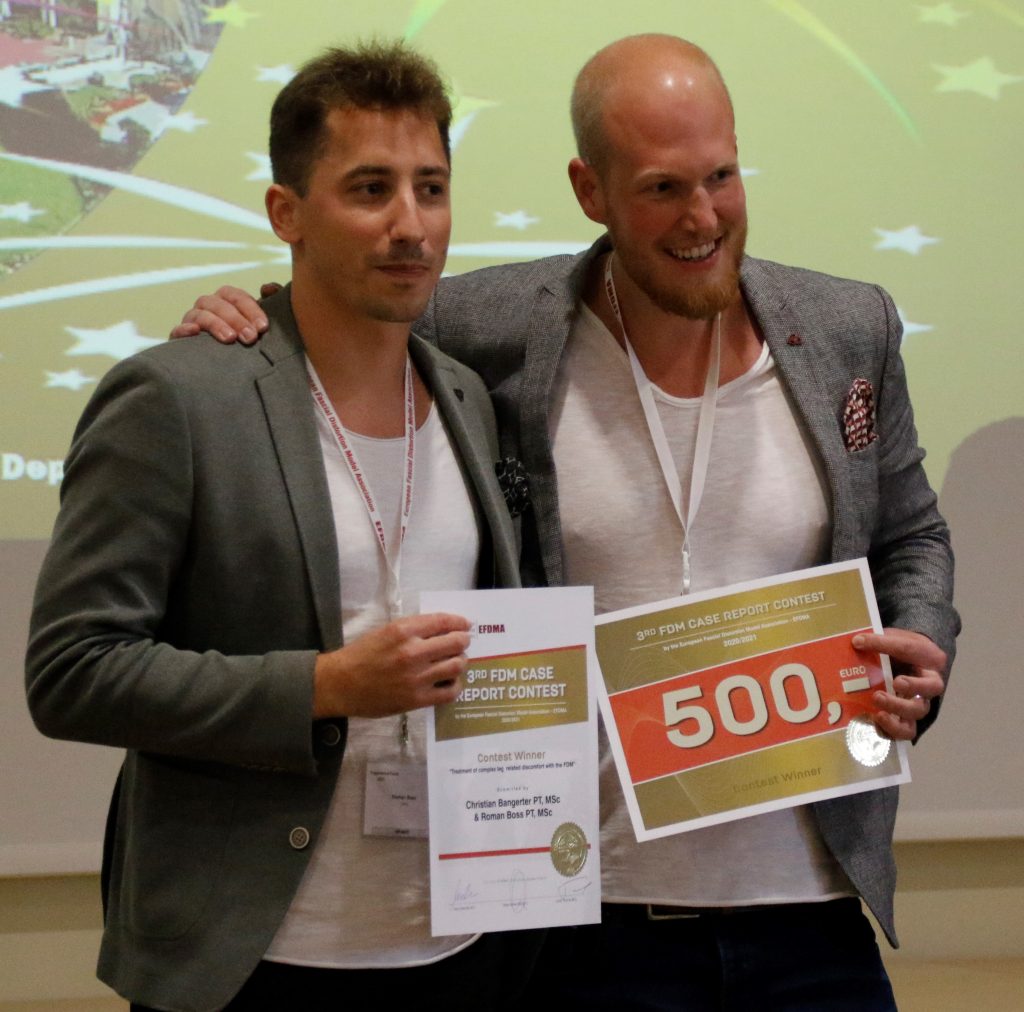 Julian Lehmann & Marcus Rohrbach:
"Therapy of a complex ankle fracture with the FDM."
---
FDM Scientific Research Certificate 2021
(Presentation at the TB-Event 2021)
Thomas Scholl, M.D.:
"Alternative treatment of FDM-manual therapy resistant lumbar HTTP's."
---
Acknowledgment for FDM Research 2019
(Presentation at the FDM Symposium 2019)
Peter Guglia, M.D.:
"Randomized study: Cervical pain syndrom: FDM treatment compaired with massage."
---
FDM Case Report Contest 2016
(Award at the FDM World Congress 2017)